"If they see something, smell or sense that something is out of order, just be mindful as a frame of reference and expand it from this might be a crime to this might be something that is a terrorist related event," explained LAPD Assistant Chief Michael Moore.

iWatchLA has received nearly 200 calls since it started six months ago. Some have turned out to be nothing, but others have gone to the federal level to be investigated. The LAPD says it is ready for a scenario like what unfolded in New York's Times Square. The department relies on three key aspects: The public's help, well trained officers and one of the nation's largest bomb detection units.
For example, LAPD has access to a high tech robotic forklift used in bomb threats, which is the only one in the U.S. and it's the department's latest tool in its fight against terrorism. While this elite unit can handle any threat, learning about a potential danger often comes from citizens.

See Something --- Say Something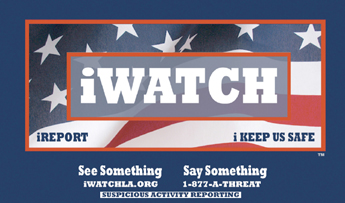 iWatchLA.org ---- 1-877-A-THREAT
.

"It's the eyes and ears of the public work. That is their daily activity they're everywhere throughout the city. That information is highly needed for them to help us and assist us," said LAPD Det. Ron Capra.
Most residents know they need to be alert in order to help keep the city safe.
"I think with everything that's gone on in the past 10 years, I hope everyone has heightened their sense of seeing things, hearing things, just being more watchful," said L.A. resident Hilton Brown.
The department says that all calls will be kept confidential. You can file a iWatchLA report through the department's hotline or online.