~~~~~~~~~~~~~~~~~~

Here's just SOME of where we were, and what we've done recently: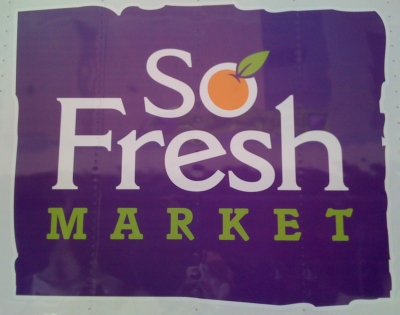 LACP's Art Kellner discovered a fabulous new community effort,
the "So Fresh Market" at the Del Amo Mall in Torrance, a new
family run communty project we'll want to promote at LACP.

In fact, we'll soon do a radio show on "So Fresh" ..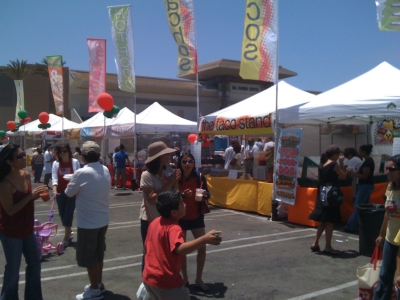 The non-profit "So Fresh Market" venture provides top quality
fresh produce along with food booths and lots of entertainment,
and is open weekends .. on Friday, Saturday and Sunday
.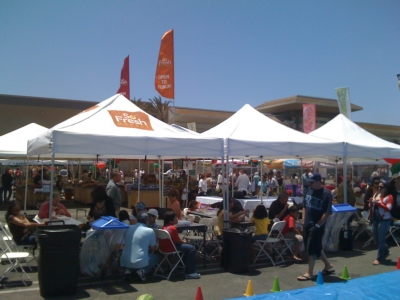 There's fun for all, and its all about bringing the community
together. A lot of local volunteers participate each day.
Located in the rear of the Del Amo Mall in Torrance, the open air
"So Fresh Market" is a first attempt under a non-profit umbrella.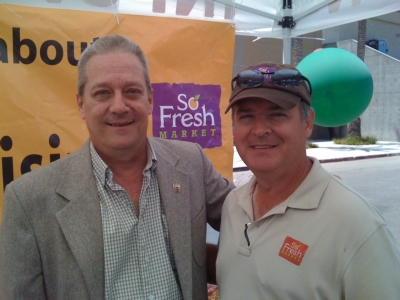 LACP's Bill Murray with "So Fresh" General Manager, Dana Nickless,
who explained the philinthropic John Dunn, who's successful family
is primarilly reponsible for this effort, has a vision to provide many
more "So Fresh Markets" -- perhaps across the country.

Here's their web site: www.SoFreshMarket.com
~~~~~~~~~~~~~~~~~~

We participated at two July 4th celebrations, one in El Sereno, in Hollenbeck Division: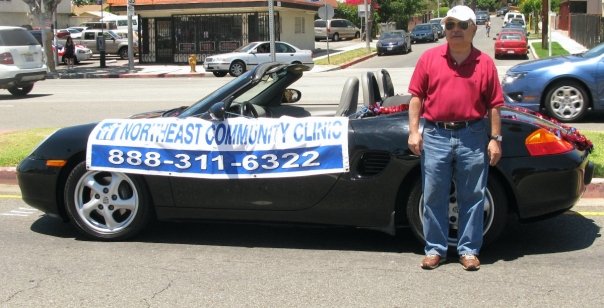 Allen Ono (and his car) represented the Northeast Community Clinic
(NECC) in the Independence Day parade!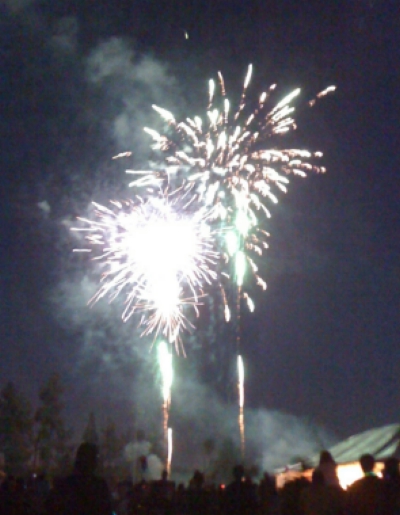 El Sereno began it's July 4th celbration with an annual parade .. and ended it with
tradional fireworks! Everyone enjoyed the display .. who doesn't like fireworks? !!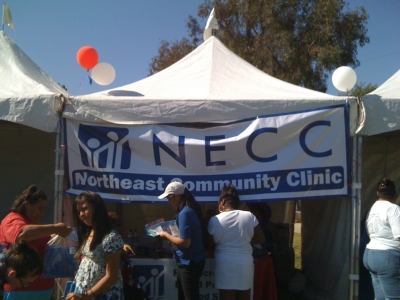 LACP's Bill Murray also serves on the Board of several worthy community
efforts and non-profit organizations. Among those he's most proud of is NECC,
Northeast Community Clinic, which, with almost a dozen centers, is now
one of the largest community clinics in the Los Angeles region.

NECC serves it's clients regardless of status, language spoken or ability to pay.


The event included food, entertainment and community booths.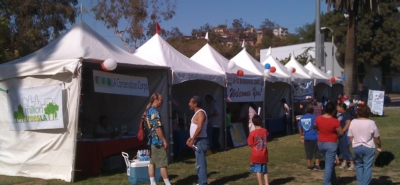 Several community organizations, NECC among them, were there.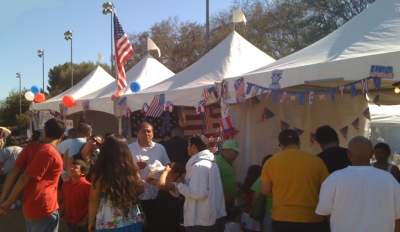 There was some great food and drink on hand .. really yummy.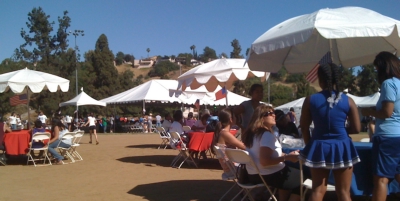 Tables with umbrellas helped out with the sun at mid-day.


The great entertainment included everything from rock and roll
groups to salsa bands, and the entertainment tent was full.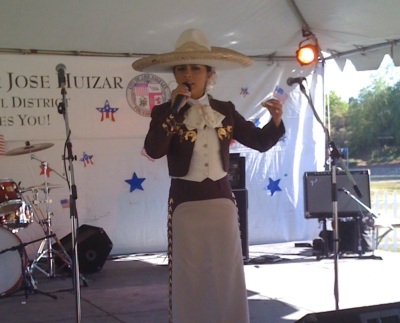 Most of these community events feature local talent as entertainment,
giving musicians and other performers a little extra exposure.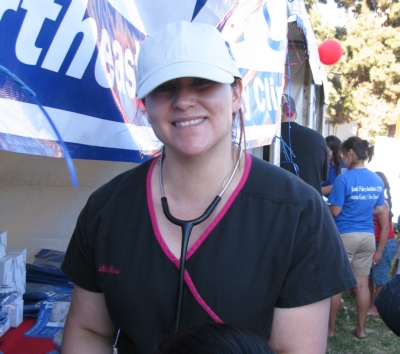 Dr. Silvia Olivas, an NECC Board Member and licensed physician,
gave free blood pressure readings to members of the public.
WOW was she popular! We also handed out hats, t-shirts, ball
point pens, water bottles and other gifts with our logo on them.

Two NECC staff members, Alma, who also volunteered at the Lummis Day
booth (see below) and Director of Development Jill Thomas-Doyle,
as well as Ruby and Otto, Board Members, were also on hand,
but unfortunaltly didn't make the pictures.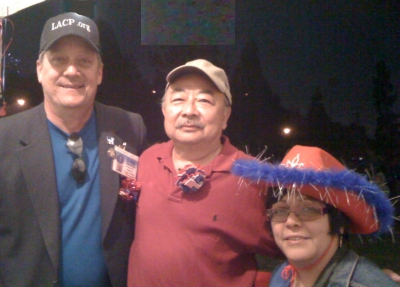 Bill Murray was there, as were Allen Ono and Dalia Jaramillo, fellow
Board Members who rode in the parade and then stayed on all day
as volunteers at the NECC community booth in El Sereno.

What a great way to get the word out about the clinics!

The Northeast Community Clinic web site is: www.NECCmed.org

~~~~~~~~~~~~~~~~~~

And another in Boyle Heights, also in Hollenbeck Division: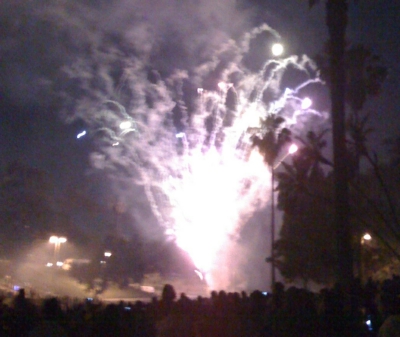 Hollenback Park was the scene for some July 4th fireworks
.. a week early! There was a terrific turnout for music and
entertainment, community booths and, of course, fireworks!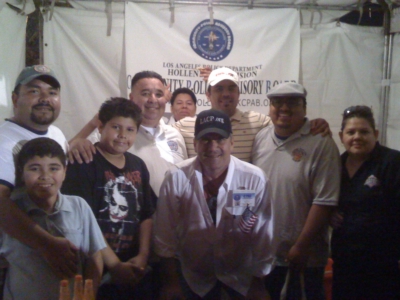 Here are the participants at LAPD Hollenbeck Divisions's Community-Police
Advisory Board (C-PAB) which had a booth there for a National Night Out
fundraiser (NNO occurs is an annual event all over the country in early August).
~~~~~~~~~~~~~~~~~~

We attended, and reported on, the Police Commission (on our "Community Matters" radio show: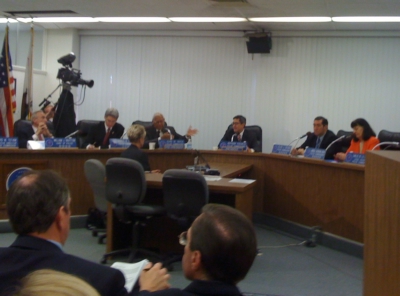 The LAPD Police Commission - 6/30/09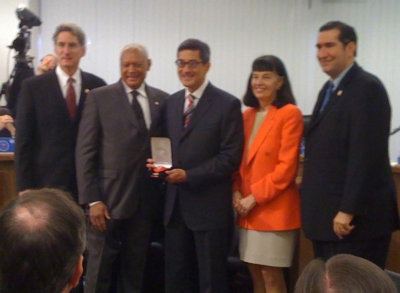 The outgoing Commissioner accepts the Police Commissiopn's
highest award, their Distinguished Service Medal.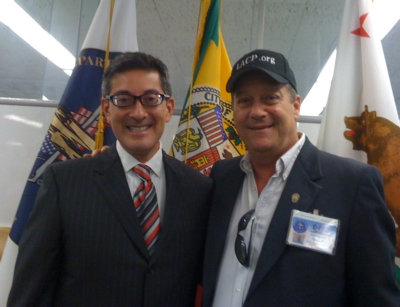 Commissioner Pachecho and Bill
Current Police Commission Agenda

~~~~~~~~~~~~~~~~~~

Bill met with his Congressman:
Coffee With Your Congressman,
Xavier Becerra

SATURDAY, JUNE 20, 2009



Glassell Park Community and Senior Center
3750 N. Verdugo Road
Los Angeles, CA 90065 Congressman Becerra holds regular "coffees" in the local community.
This time he spoke mostly about the new health care proposals. People know he's accessible, and he attracts a rather large crowd.
Getting back to Los Angeles regularly gives Congressman Becerra
a good idea of the concerns and positions of his constituents.
LACP appreciates his efforts and interest in hearing from the community.


US Congressman Xavier Becerra and LACP's Bill Murray

~~~~~~~~~~~~~~~~~~

We attend meetings at the local level, too: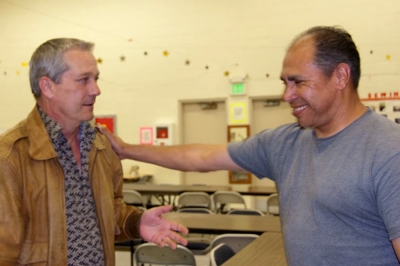 Bill discusses an issue with neighbor and MHIA President Roy Payan
at their local Improvement Association meeting in Montecito Heights
~~~~~~~~~~~~~~~~~~

We also stopped by the new replacement for "Parker Center" .. the LAPD headquarters (also known as the Police Administrative Building) .. to see its progress. The edifice is still under construction but according to reports is on schedule to open on time, in September, 2009, and on budget, at $437 million. At this point the building, located across the street to the south of LA City Hall, is really taking shape: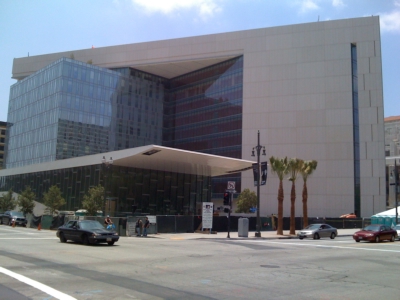 The New Police Administrative Building
~~~~~~~~~~~~~~~~~~

Bill dropped into the beautiful Council Chamber in City Hall in time to hear some reporting on a proposed revision and expansion of LAX airport services, an important issue shared by all who live in, work in, or visit Los Angeles: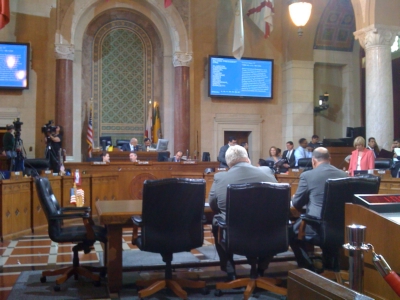 Councilwoman Janice Hahn led the presentation.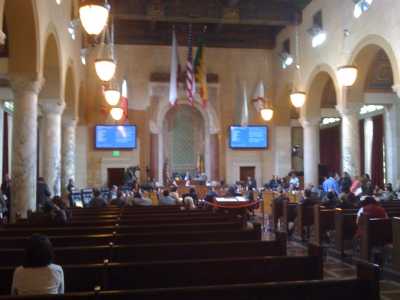 Unfortunately there were few community members present to
hear the proposal, so public input and comment was missing.

~~~~~~~~~~~~~~~~~~

We also attended the Police Commission meeting on June 16, where the BIG topic, a decision to consider revising the way retired LAPD officers can dress while providing security for film crews, drew a large crowd. After a presentation by Chief Jim McDonnell, many people testified, mostly representatives from the entertainment industry and retired officer. But LACP's Bill Murray also spoke, one of the only voices hear to criticize the suggested uniform yet applaud the attempt to give a serious look at a problem we've heard over and over again from neighborhood community members all over town.
NOTE


Special Location:
at City Hall

BOARD OF POLICE COMMISSIONERS

SPECIAL MEETING

TUESDAY, JUNE 16, 2009
9:30 A.M
.
EDWARD R. ROYBAL
BOARD OF PUBLIC WORKS SESSION ROOM
200 NORTH SPRING STREET, ROOM 350
LOS ANGELES, CA 90012


LAPD
Police
Commission

The Police Commission





Chief McDonnell gives report






The public testified






and LACP was there ..



Current Police Commission Agenda

~~~~~~~~~~~~~~~~~~

And before that: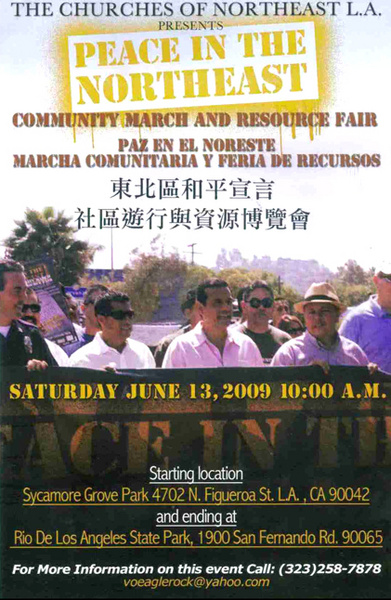 .....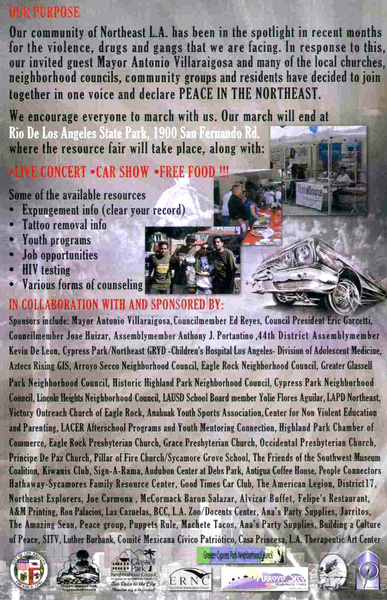 A little light rain didn't halt this year's version of the Northeast March & Community Fair for "Peace in the Northeast."
About 2,000 people attended the first annual event, co-sponsored by the local LAPD Division and many other groups.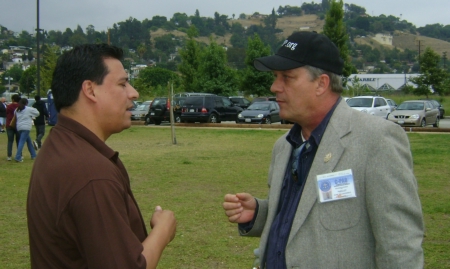 José Huizar, LA City Councilman, discusses issues with Bill Murray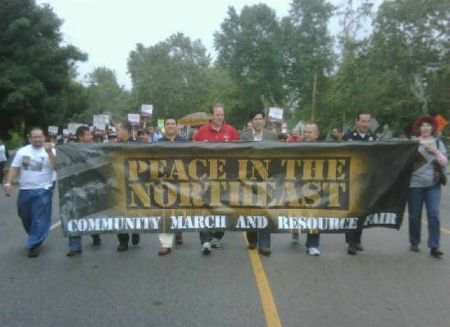 There was a great turnout at this, the second annual March for Peace,
of community folk, law enforcement and public officials
Community groups strutted their stuff - here's the ASNC Public Safety
info, once headed by Bill Murray, now Chaired by Mark Legassie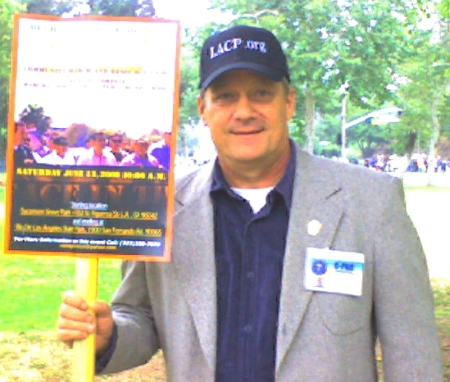 Showing up makes a big difference, and lets the community
know you care and are ready to play your part!
~~~~~~~~~~~~~~~~~~

Here's another recent appearance:


The Annual Lummis Day Event has become THE festival celebrating the arts and cultures of a divergent and inclusive section of Los Angeles, nestled between downtown and the city of Pasadena. It served as an opportunity to bring out an estimated 5,000 to 7,000 people. And sure enough, LACP's Bill Murray played an important role, serving as stage manager, web master and part-time MC.

Web site at: www.LummisDay.org

4th Annual Lummis Day FLYER

Wil Dog Y Su Banda
Culture Clash: Ric Salinas, Herbert Siguenza and Richard Montoya
The Monolators



KTTV's Hal Eisner introduces Kultura Phillippine Folk Arts
~~~~~~~~~~~~~~~~~~

The annual Community Police Advisory Board (C-PAB) Summit was June 6, 2009, and we were there:
LAPD's Annual C-PAB Summit
This year's theme & focus was on crime scene investigations!

Each year, the Community Police Advisory Board in conjunction with the LAPD Community Policing Unit, Community Relations Office, the LAPD Commission, and the Regional Community Police Advisory Boards convene an"invitation only" Citywide CPAB Summit to engage members, city, county, and state officials on current public safety and crime prevention measures Citywide and Nationwide.

We were excited to introduce this year's theme as "C S I (Crime Scene Investigation) 2009 CPAB Summit" which is in line with much of the popular programming we now enjoy on television, radio, and read in the news today.

The Summit began with registration and a continental breakfast at 7:30 a.m. This year's theme focused on crime scene investigations! We had a team of detectives and criminalists provide us with displays, presentations and a crime scenario depicting various components of evidence analysis. In addition, the Forensic Science Center was open for limited tours.

Hertzberg-Davis Forensic Science Center

Various special police vehicles were on hand ..

LACP's Bill Murray just HAD to get behind the wheel !

See also: LACP article on 2009 C-PAB Summit
Photojournalism credits:

Eliot Secular
Pat Griffith
Jim Omahen
Frank Wada
Everett Littlefield
Mark Legassie
Art Villanueva
Eddie Rivera
Martha Benedict
Dalia Jaramillo
Bill Murray