~~~~~~~~~~~~~~~~~~~~~~~~~~~~~~~~~~~~~~~~~~~~~~~

13 THINGS YOUR BURGLAR WON'T TELL YOU

I am particularly interested in the part about the wasp spray & car keys...

1. Of course I look familiar. I was here just last week cleaning your carpets, painting your shutters, or delivering your new refrigerator.

2. Hey, thanks for letting me use the bathroom when I was working in your yard last week. While I was in there, I unlatched the back window to make my return a little easier.

3. Love those flowers. That tells me you have taste... and taste means there are nice things inside. Those yard toys your kids leave out always make me wonder what type of gaming system they have.

4. Yes, I really do look for newspapers piled up on the driveway. And I might leave a pizza flyer in your front door to see how long it takes you to remove it.

5. If it snows while you're out of town, get a neighbor to create car and foot tracks into the house.. Virgin drifts in the driveway are a dead giveaway.

6. If decorative glass is part of your front entrance, don't let your alarm company install the control pad where I can see if it's set. That makes it too easy.

7. A good security company alarms the window over the sink. And the windows on the second floor, which often access the master bedroom - and your jewelry. It's not a bad idea to put motion detectors up there too.

8. It's raining, you're fumbling with your umbrella, and you forget to lock your door - understandable. But understand this: I don't take a day off because of bad weather.

9. I always knock first. If you answer, I'll ask for directions somewhere or offer to clean your gutters. (Don't take me up on it.)

10. Do you really think I won't look in your sock drawer? I always check dresser drawers, the bedside table, and the medicine cabinet.

11. Here's a helpful hint: I almost never go into kids' rooms.

12. You're right: I won't have enough time to break into that safe where you keep your valuables. But if it's not bolted down, I'll take it with me.

13. A loud TV or radio can be a better deterrent than the best alarm system. If you're reluctant to leave your TV on while you're out of town, you can buy a $35 device that works on a timer and simulates the flickering glow of a real television. (Find it at http://www.faketv/.com)

8 MORE THINGS A BURGLAR WON'T TELL YOU:

1. Sometimes, I carry a clipboard. Sometimes, I dress like a lawn guy and carry a rake. I do my best to never, ever look like a crook.

2. The two things I hate most: loud dogs and nosy neighbors.

3. I'll break a window to get in, even if it makes a little noise. If your neighbor hears one loud sound, he'll stop what he's doing and wait to hear it again. If he doesn't hear it again, he'll just go back to what he was doing. It's human nature.

4. I'm not complaining, but why would you pay all that money for a fancy alarm system and leave your house without setting it?

5. I love looking in your windows. I'm looking for signs that you're home, and for flat screen TVs or gaming systems I'd like. I'll drive or walk through your neighborhood at night, before you close the blinds, just to pick my targets.

6. Avoid announcing your vacation on your Facebook page. It's easier than you think to look up your address.

7. To you, leaving that window open just a crack during the day is a way to let in a little fresh air. To me, it's an invitation.

8. If you don't answer when I knock, I try the door. Occasionally, I hit the jackpot and walk right in.

Sources: Convicted burglars in North Carolina, Oregon, California, and Kentucky; security consultant Chris McGoey, who runs (http://www.crimedoctor.com) and Richard T. Wright, a criminology professor at the University of Missouri-St. Louis, who interviewed 105 burglars for his book Burglars on the Job.

WASP SPRAY

Protection for you and your home:

If you don't have a gun, here's a more humane way to wreck someone's evil plans for you.

A friend who is a receptionist in a church in a high risk area was concerned about someone coming into the office on Monday to rob them when they were counting the collection. She asked the local police department about using pepper spray and they recommended to her that she get a can of wasp spray instead.

The wasp spray, they told her, can shoot up to twenty feet away and is a lot more accurate, while with the pepper spray, they have to get too close to you and could overpower you. The wasp spray temporarily blinds an attacker until they get to the hospital for an antidote. She keeps a can on her desk in the office and it doesn't attract attention from people like a can of pepper spray would. She also keeps one nearby at home for home protection.. Thought this was interesting and might be of use.

FROM ANOTHER SOURCE:

On the heels of a break-in and beating that left an elderly woman in Toledo dead, self-defense experts have a tip that could save your life.

Val Glinka teaches self-defense to students at Sylvania Southview High School. For decades, he's suggested putting a can of wasp and hornet spray near your door or bed. Glinka says, "This is better than anything I can teach them." Glinka considers it inexpensive, easy to find, and more effective than mace or pepper spray. The cans typically shoot 20 to 30 feet; so if someone tries to break into your home, Glinka says, "spray the culprit in the eyes". It's a tip he's given to students for decades. It's also one he wants everyone to hear. If you're looking for protection, Glinka says look to the spray.

"That's going to give you a chance to call the police; maybe get out." Maybe even save a life.

Put your car keys beside your bed at night.

Tell your spouse, your children, your neighbors, your parents, your Dr.'s office, the check-out girl at the market, everyone you run across. Put your car keys beside your bed at night.

If you hear a noise outside your home or someone trying to get in your house, just press the panic button for your car. The alarm will be set off, and the horn will continue to sound until either you turn it off or the car battery dies. This tip came from a neighborhood watch coordinator. Next time you come home for the night and you start to put your keys away, think of this: It's a security alarm system that you probably already have and requires no installation. Test it. It will go off from most everywhere inside your house and will keep honking until your battery runs down or until you reset it with the button on the key fob chain. It works if you park in your driveway or garage. If your car alarm goes off when someone is trying to break into your house, odds are the burglar/rapist won't stick around. After a few seconds all the neighbors will be looking out their windows to see who is out there and sure enough the criminal won't want that. And remember to carry your keys while walking to your car in a parking lot. The alarm can work the same way there. This is something that should really be shared with everyone. Maybe it could save a life or a sexual abuse crime.

~~~~~~~~~~~~~~~~~~~~~~~~~~~~~~~~~~~~~~~~~~~~~~~

Some of these things you just can't make up !

Jack in the Box attempted robbery suspect arrested in San Diego when he returns for food

March 4, 2011

A man suspected of attempting to rob a Jack in the Box in San Diego at gunpoint was arrested the next day when he returned to the restaurant, apparently to get a burger and fries, police said.

Police were at the restaurant in the Hillcrest neighborhood Thursday for a follow-up investigation when the manager noticed that the would-be robber from Wednesday was standing in line, police said.

Police arrested Shawn Dustin Page, 30, without incident, or fast food.

He had allegedly tried to rob the restaurant but fled after the clerk was unable to open the register. He is also suspected of robbing the same Wells Fargo Bank branch twice.

Los Angeles Times

~~~~~~~~~~~~~~~~~~~~~~~~~~~~~~~~~~~~~~~~~~~~~~~

Cop humor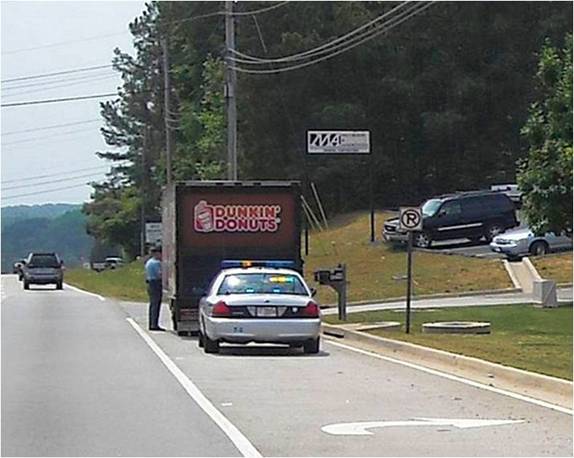 I'll take three glazed, an apple fritter and a coffee, please...

+++++++++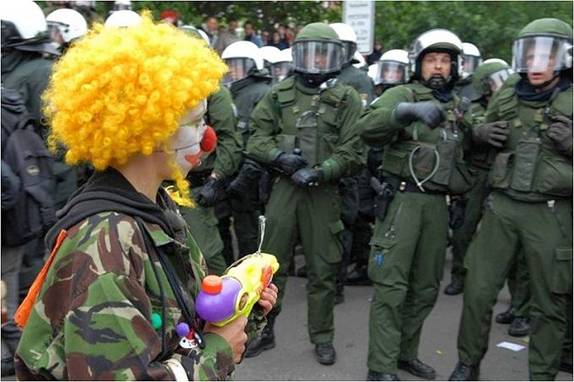 Back off...this is loaded with perfume and your wife won't believe you!

+++++++++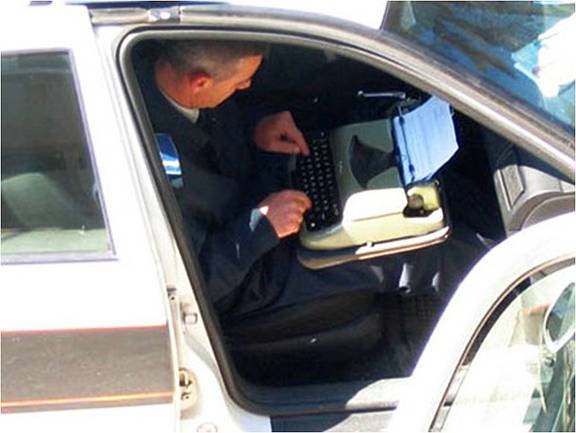 An "Old School" cop writes a report...

+++++++++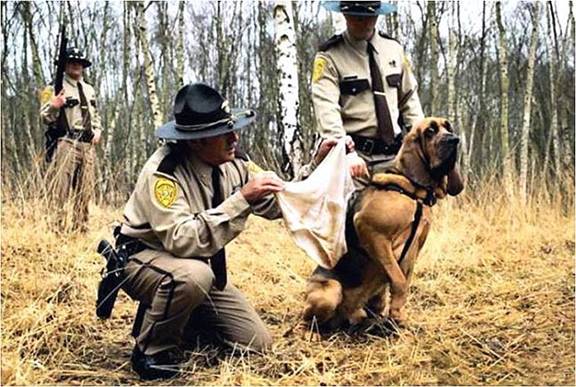 I'm not sniffin' that!!

~~~~~~~~~~~~~~~~~~~~~~~~~~~~~~~~~~~~~~~~~~~~~~~~~~~~~~~~~~~~

Redneck Fire Alarm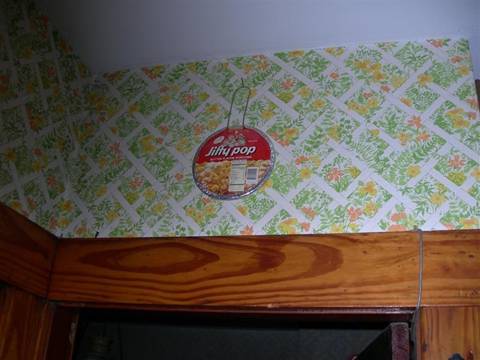 You never have to change the batteries !!!

I'm putting one in every room.

Safety First!

You don't have to thank me for this information, I do this as a public service.

~~~~~~~~~~~~~~~~~~~~~~~~~~~~~~~~~~~~~~~~~~~~~~~

The Jury

In a criminal justice system based on 12 individuals not smart enough to get out of jury duty, here is a jury to be proud of:

A defendant was on trial for murder. There was strong evidence indicating guilt, but there was no corpse. In the defence's closing statement, the lawyer, knowing that his client would probably be convicted, resorted to a trick.

"Ladies and gentlemen of the jury, I have a surprise for you all," the lawyer said as he looked at his watch. "Within one minute, the person presumed dead in this case will walk into this courtroom." He looked toward the courtroom door.
The jurors, somewhat stunned, all looked on eagerly.

A minute passed. Nothing happened.

Finally the lawyer said, "Actually, I made up the previous statement. But you all looked on with anticipation. I, therefore, put it to you that you have a reasonable doubt in this case as to whether anyone was killed, and I insist that you return a verdict of not guilty."

The jury retired to deliberate.

A few minutes later, the jury returned and pronounced a verdict of guilty.

"But how?" inquired the lawyer. "You must have had some doubt; I saw all of you stare at the door."

The jury foreman replied: "Yes, we did look .. but your client didn't."

~~~~~~~~~~~~~~~~~~~~~~~~~~~~~~~~~~~~~~~~~~~~~~~

Breast bar exams
Police arrested a woman who they say impersonated a plastic surgeon and performed at least two breast exams for women in bars in Boise, Idaho. She was jailed on accusations of practicing medicine without a license.
Kristina B. Ross was arrested Tuesday after police were contacted by a plastic surgeon's office, reporting patients were calling to make appointments with a Dr. Berlyn Aussieahshowna. No doctor of that named works there.
Police contacted prospective patients who had called, worried more patients may have had fake exams. That led them to 37-year-old Ross.
Assault by tamale
A Florida woman was arrested Saturday on domestic battery charges for flinging tamales at her boyfriend.
Adyan Sanchez said her tamale launch was in response to her boyfriend calling her "a bitch" in front of the couple's 1-year-old son.
Sanchez, a 30-year-old teacher's assistant, was booked on a misdemeanor battery count and released after posting a $500 bond.
Shoe stash
A man who placed 17 bags of cocaine in his 3-year-old relative's shoe was arrested on charges of possession with intent to distribute the drug in a school zone.
Demare Gary, 19, of Roxbury, Mass, admitted to storing the drug in the girl's shoe the night before. The girl's mother said she complained her shoe was tight on Tuesday, but didn't notice the drug's placement.
The girl complained of her shoe being too tight again at school, and a teacher discovered the stash that had been causing the pain.
Down the toilet
Pennsylvania police are expecting to recover more jewelry a 53-year-old man might have swallowed after allegedly stealing it from his mother on Sunday.
Robert Spriggs was charged with stealing two rings, valued at $30,000 each, and police have collected one more ring found in his pocket and two others that passed through his digestive system during his stay in a Washington County cell without a flushable toilet.
Police said two tennis bracelets also are missing.
Ouch.
http://www.washingtonexaminer.com/local/crime/STUPID-CRIMES-1609590-109030169.html

~~~~~~~~~~~~~~~~~~~~~~~~~~~~~~~~~~~~~~~~~~~~~~~
Constables trick suspects by using borrowed Steelers van

(you can't make this stuff up)


by Mark Hofmann

DAILY COURIER

November 12, 2010

Two state constables from Connellsville bet on Steelers fervor to help them snag suspected criminals.

Constables Hubie Coleman and Albert "Rocky" Younkin often hit a stumbling block when they set out to serve arrest warrants at suspects' homes: No one will answer the door.
"One guy told us he wouldn't come outside because of our car," Coleman said of the constable car that resembles a police cruiser. "So Rocky and I were thinking to use a Steelers van."

The constables borrowed a van -- bright yellow, "Steelers" emblazoned on the side -- that's for sale at Country Motors along Route 119. Owner Guy Rose allowed them to use the van Wednesday during monthly night court.
This time, when the Steelers van pulled up, front doors popped open.
"It's been working great," Coleman said. "We sit outside and lay on the horn, and they come out. They're interested and curious."
For some, the fact that they were duped didn't dampen their team spirit.
"One guy tried to buy the van off us," said Younkin, who named their tactic, "The Fayette County Constables Do the End Around" in reference to a trick football play.
In keeping with the theme, Coleman and Younkin played music for the suspects on the drive to District Judge Ronald Haggerty Jr.'s office.
It was the Pittsburgh Steelers fight song.
http://www.pittsburghlive.com/x/pittsburghtrib/news/regional/fayette/s_708941.html
~~~~~~~~~~~~~~~~~~~~~~~~~~~~~~~~~~~~~~~~~~~~~~~
Stupid Crimes
by Scott McCabe

Examiner Staff Writer

November 11, 2010

~~ Lawn & order ~~

A Florida inmate who was mowing grass on a work detail is accused of trying to escape on a lawn mower.

Officials said Richard Williams, 43, sped off on the riding mower after his supervisor's back was turned.

A Volusia County sheriff's deputy spotted Williams 10 minutes later about a half-mile away, still riding the mower.

Williams was charged with escape.

~~ Son of the year ~~

A Seattle man who lives next to his parents took the law into his own hands to foil a break-in by blocking the getaway vehicle and taking a gun from the bad guy.

Jens Beeder was driving home one night last week when he noticed a man loading stuff from his parents' house into a Land Rover.

Beeder charged in while the man was face-to-face with Beeder's mother. Beeder grabbed the man in a bear-hug and slammed him against the bathroom sink.

The intruder reached for his gun, yelling, " 'In the name of Jesus, let me go before someone gets killed!' " Beeder told reporters.

Beeder grabbed the handgun and the bad guy ran to his sport utility vehicle, pulled out a rifle and pointed it at Beeder. But he couldn't drive away because Beeder had blocked the driveway with his girlfriend's car.

Desperately, the suspect yelled, "Will you please move your car?"

By then, police arrived and arrested the man.

~~ Wasted away again in Marijuanaville ~~

A Florida Keys teen was arrested after deputies say he left his MySpace page called up on a computer at a home that had been burglarized.

Sheriff's deputies said a caretaker for the home was removing hurricane shutters and saw an intruder sitting on the living room couch.

Deputies found no one inside, but they did find an empty soda and snack containers, and some marijuana on a coffee table.

The deputies also found a computer turned on and logged into the MySpace account of an 18-year-old.

The teen was found walking around the neighborhood. He told a deputy he had been in the house because it was cold outside, authorities said.

~~ Did she have a concealed weapons permit? ~~

Police in Illinois say a woman attacked an officer with a sex toy.

Police say Carolee Bildsten, 56, first ran out on a bill at Joe's Crab Shack, something she had done in the past. When a police officer went to Bildsten's home, he was attacked -- according to the police report -- with "a rigid feminine pleasure device."

Bildsten was charged with aggravated assault and theft of labor or services.

~~ Fertile turtle or food stamp fraud? ~~

A Maine woman is accused of fraudulently obtaining food stamps by claiming she was pregnant over a 40-month period.

Prosecutors said Leah L. Wright, 34, was paid more than $4,000 in benefits by forging letters from doctors. Two notes from separate offices show one pregnancy followed another by a day.

"You can't continue food stamps benefits forever unless there is a reason you can't work," said Maine Assistant Attorney General Leanne Robbin.

http://www.washingtonexaminer.com/local/STUPID-CRIMES-1527379-107346563.html

~~~~~~~~~~~~~~~~~~~~~~~~~~~~~~~~~~~~~~~~~~~~~~~

Priceless story

The light turned yellow, just in front of him. He did the right thing, stopping at the crosswalk, even though he could have beaten the red light by accelerating through the intersection.

The tailgating woman was furious and honked her horn, screaming in frustration, as she missed her chance to get through the intersection, dropping her cell phone and makeup.

As she was still in mid-rant, she heard a tap on her window and looked up into the face of a very serious police officer. The officer ordered her to exit her car with her hands up. He took her to the police station where she was searched, fingerprinted, photographed, and placed in a holding cell.

After a couple of hours, a policeman approached the cell and opened the door. She was escorted back to the booking desk where the arresting officer was waiting with her personal effects.

He said, ''I'm very sorry for this mistake. You see, I pulled up behind your car while you were blowing your horn, flipping off the guy in front of you and cussing a blue streak at him. I noticed the 'What Would Jesus Do?' bumper sticker, the 'Choose Life' license plate holder, the 'Follow Me to Sunday-School' bumper sticker, and the chrome-plated Christian fish emblem on the trunk .. so naturally.. I assumed you had stolen the car.''

Priceless

~~~~~~~~~~~~~~~~~~~~~~~~~~~~~~~~~~~~~~~~~~~~~~~

Polk County, Florida, style justice

An illegal alien in Polk County Florida who got pulled over in a routine traffic stop ended up 'executing' the deputy who stopped him. The deputy was shot eight times, including once behind his right ear at close range. Another deputy was wounded and a police dog killed. A state-wide manhunt ensued.

The murderer was found hiding in a wooded area and as soon as he took a shot at the SWAT team, officers opened fire on him. They hit the guy 68 times.

Naturally, the liberal media went nuts and asked why they had to shoot the poor undocumented immigrant 68 times.

Sheriff Grady Judd told the Orlando Sentinel: 'Because that's all the ammunition we had.' Now, is that just about the all-time greatest answer or what!

The Coroner also reported that the illegal alien died of natural causes. When asked by a reporter how that could be since there were 68 bullet wounds in his body, he simply replied "when you are shot 68 times you are naturally gonna die."

~~~~~~~~~~~~~~~~~~~~~~~~~~~~~~~~~~~~~~~~~~~~~~~

Canadian concern..

A lady Canadian libertarian wrote a lot of letters to the government, complaining about the treatment of captive insurgents (terrorists) being held in Afghanistan National Correctional System facilities.

She received back the following reply:

National Defence Headquarters
MGen George R. Pearkes Bldg, 15 NT
101 Colonel By Drive
Ottawa , ON K1A 0K2

Canada

Dear Concerned Citizen,

Thank you for your recent letter expressing your profound concern of treatment of the Taliban and Al Qaeda terrorists captured by Canadian Forces who were subsequently transferred to the Afghanistan Government and are currently being held by Afghan officials in Afghanistan National Correctional System facilities.

Our administration takes these matters seriously and your opinions were heard loud and clear here in Ottawa .

You will be pleased to learn, thanks to the concerns of citizens like yourself; we are creating a new department here at the Department of National Defence , to be called 'Liberals Accept Responsibility for Killers' program, or L.A.R.K. for short.

In accordance with the guidelines of this new program, we have decided to divert one terrorist and place him in your personal care.

Your personal detainee has been selected and is scheduled for transportation under heavily armed guard to your residence in Toronto next Monday.

Ali Mohammed Ahmed bin Mahmud (you can just call him Ahmed) is to be cared for pursuant to the standards you personally demanded in your letter of complaint.

It will likely be necessary for you to hire some assistant caretakers.. We will conduct weekly inspections to ensure that your standards of care for Ahmed are commensurate with those you so strongly recommend in your letter.

Although Ahmed is a sociopath and extremely violent, we hope that your sensitivity to what you described as his 'attitudinal problem' will help him overcome these character flaws.

Perhaps you are correct in describing these problems as mere cultural differences.

We understand that you plan to offer counselling and home schooling.

Your adopted terrorist is extremely proficient in hand-to-hand combat and can extinguish human life with such simple items as a pencil or nail clippers.

We advise that you do not ask him to demonstrate these skills at your next yoga group.

He is also expert at making a wide variety of explosive devices from common household products, so you may wish to keep those items locked up, unless (in your opinion) this might offend him.

Ahmed will not wish to interact with you or your daughters (except sexually) since he views females as a subhuman form of property.

This is a particularly sensitive subject for him and he has been known to show violent tendencies around women who fail to comply with the new dress code that he will recommend as more appropriate attire.

I'm sure you will come to enjoy the anonymity offered by the burka over time. Just remember that it is all part of 'respecting his culture and religious beliefs' as described in your letter.

Thanks again for your concern. We truly appreciate it when folks like you keep us informed of the proper way to do our job and care for our fellow man.

You take good care of Ahmed and remember we'll be watching.

Good luck and God bless you.

Minister of National Defence office.

~~~~~~~~~~~~~~~~~~~~~~~~~~~~~~~~~~~~~~~~~~~~~~~

An Obituary printed in the London Times - Interesting and sadly rather true.

Today we mourn the passing of a beloved old friend, Common Sense, who has been with us for many years. No one knows for sure how old he was, since his birth records were long ago lost in bureaucratic red tape. He will be remembered as having cultivated such valuable lessons as:

- Knowing when to come in out of the rain;
- Why the early bird gets the worm;
- Life isn't always fair;
- and Maybe it was my fault.

Common Sense lived by simple, sound financial policies (don't spend more than you can earn) and reliable strategies (adults, not children, are in charge).

His health began to deteriorate rapidly when well-intentioned but overbearing regulations were set in place. Reports of a 6-year-old boy charged with sexual harassment for kissing a classmate; teens suspended from school for using mouthwash after lunch; and a teacher fired for reprimanding an unruly student, only worsened his condition.

Common Sense lost ground when parents attacked teachers for doing the job that they themselves had failed to do in disciplining their unruly children.

It declined even further when schools were required to get parental consent to administer sun lotion or an aspirin to a student; but could not inform parents when a student became pregnant and wanted to have an abortion.

Common Sense lost the will to live as the churches became businesses; and criminals received better treatment than their victims.

Common Sense took a beating when you couldn't defend yourself from a burglar in your own home and the burglar could sue you for assault.

Common Sense finally gave up the will to live, after a woman failed to realize that a steaming cup of coffee was hot. She spilled a little in her lap, and was promptly awarded a huge settlement.

Common Sense was preceded in death, by his parents, Truth and Trust, by his wife, Discretion , by his daughter, Responsibility, and by his son, Reason.

He is survived by his 4 stepbrothers ;

I Know My Rights
I Want It Now
Someone Else Is To Blame
I'm A Victim

Not many attended his funeral because so few realized he was gone. If you still remember him, pass this on. If not, join the majority and do nothing.

~~~~~~~~~~~~~~~~~~~~~~~~~~~~~~~~~~~~~~~~~~~~~~~

Australia sounds better all the time...

An interesting approach that might be very effective.

This is the message that the Maroochydore High School, Queensland, Australia, staff voted unanimously to record on their school telephone answering machine. This is the actual answering machine message for the school.

This came about because they implemented a policy requiring students and parents to be responsible for their children's absences and missing homework.

The school and teachers are being sued by parents who want their children's failing grades changed to passing grades - even though those children were absent 15-30 times during the semester and did not complete enough school work to pass their classes.

Click here for: TELEPHONE ANSWERING MESSAGE

~~~~~~~~~~~~~~~~~~~~~~~~~~~~~~~~~~~~~~~~~~~~~~~

911 in the South

This is an example of why some folks don't want to live in the South. Believe it or not, these are Memphis, Tennessee's REAL 911 Calls!


Dispatcher: 9-1-1 What is your emergency?
Caller: I heard what sounded like gunshots coming from the brown house on the corner.
Dispatcher: Do you have an address?
Caller: No, I have on a blouse and slacks, why?


Dispatcher: 9-1-1 What is your emergency?
Caller: Someone broke into my house and took a bite out of my ham and cheese sandwich .
Dispatcher: Excuse me?
Caller: I made a ham and cheese sandwich and left it on the kitchen table and when I came back from the bathroom, someone had taken a bite out of it.
Dispatcher: Was anything else taken?
Caller: No, but this has happened to me before and I'm sick and tired of it!


Dispatcher: 9-1-1 What is the nature of your emergency?
Caller: I'm trying to reach nine eleven but my phone doesn't have an eleven on it.
Dispatcher: This is nine eleven.
Caller: I thought you just said it was nine-one-one
Dispatcher: Yes, ma'am nine-one-one and nine-eleven are the same thing.
Caller: Honey, I may be old, but I'm not stupid.


Dispatcher: 9-1-1 What's the nature of your emergency?
Caller: My wife is pregnant and her contractions are only two minutes apart
Dispatcher: Is this her first child?
Caller: No, you idiot! This is her husband!

And the winner is............

Dispatcher: 9-1-1
Caller: Yeah, I'm having trouble breathing. I'm all out of breath. Darn....I think I'm going to pass out.
Dispatcher: Sir, where are you calling from?
Caller: I'm at a pay phone. North and Foster.
Dispatcher: ! Sir, an ambulance is on the way. Are you an asthmatic?
Caller: No
Dispatcher: What were you doing before you started having trouble breathing?
Caller: Running from the Police.

~~~~~~~~~~~~~~~~~~~~~~~~~~~~~~~~~~~~~~~~~~~~~~~

Japanese Tow Truck

Here is something any one who rides a bike could do. All you wing riders maybe you could get a part time job!!!!!!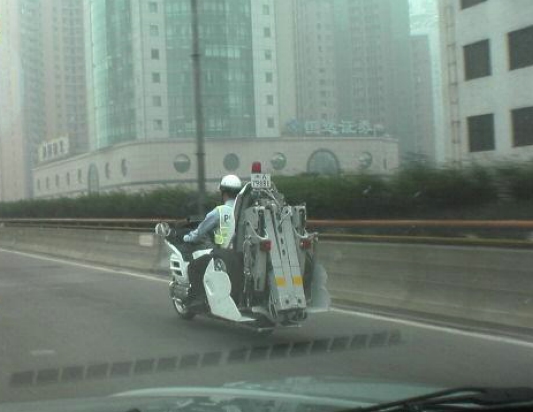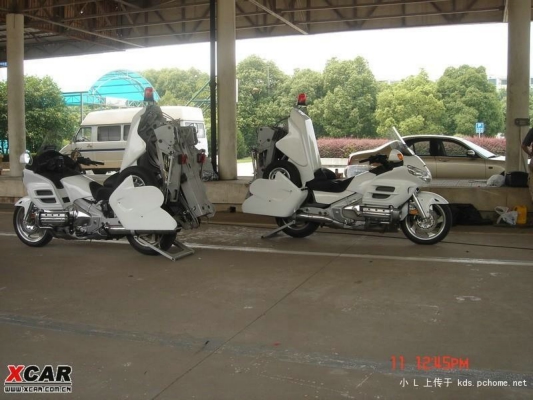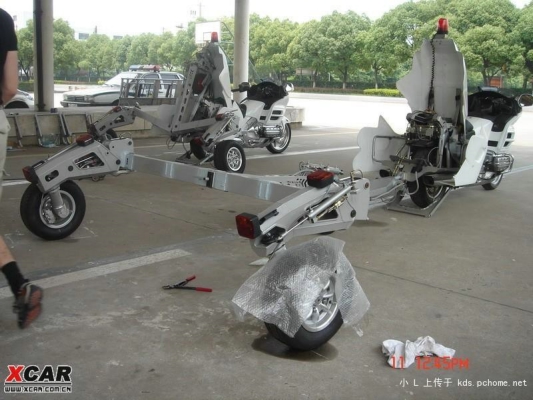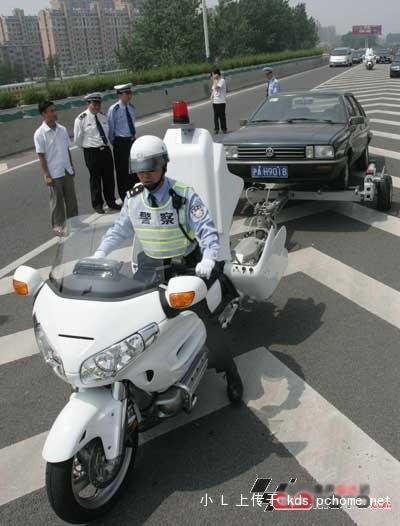 If I hadn't seen these pictures, I would not have believed it!!!

~~~~~~~~~~~~~~~~~~~~~~~~~~~~~~~~~~~~~~~~~~~~~~~

Firemen's Revenge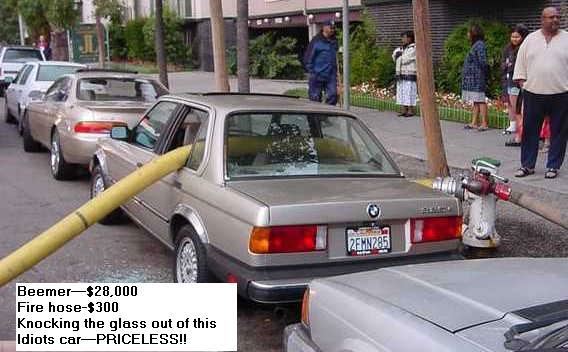 Bet he won't think he is above the law next time.

I've got one thing to say to the Firefighter who did this . . . that's the attitude I want if my house is on fire!!

~~~~~~~~~~~~~~~~~~~~~~~~~~~~~~~~~~~~~~~~~~~~~~~

They Walk Among Us .. making LAW !!!

A Washington DC airport ticket agent offers some examples:

1. I had a New Hampshire Congresswoman ask for an aisle seat so that her hair wouldn't get messed up by being near the window. (On an airplane!)

2. I got a call from a candidate's staffer, who wanted to go to Cape Town.

While I started to explain the length of the flight and the passport information, she interrupted me with, ''I'm not trying to make you look stupid, but Cape Town is in Massachusetts .." Without trying to make her look stupid, I calmly explained, ''Cape Cod is in Massachusetts, Cape Town is in Africa ''

Her response - click.

3. A senior Vermont Congressman called, furious about a Florida package we did. I asked what was wrong with the vacation in Orlando.

He said he was expecting an ocean-view room.

I tried to explain that is not possible, since Orlando is in the middle of the state. He replied, 'Don't lie to me, I looked on the map and Florida is a very thin state!'' (OMG)

4. I got a call from a lawmaker's wife who asked, ''Is it possible to see England from Canada ?'' I said, ''No..'' She said, ''But they look so close on the map. (OMG, again!)

5. An aide for a cabinet member once called and asked if he could rent a car in Dallas. When I pulled up the reservation, I noticed he had only a 1-hour layover in Dallas. When I asked him why he wanted to rent a car, he said, ''I heard Dallas was a big airport, and we will need a car to drive between gates to save time.'' (Aghhhh)

6. An Illinois Congresswoman called last week. She needed to know how it was possible that her flight from Detroit left at 8:30 a.m., and got to Chicago at 8:33 a.m. I explained that Michigan was an hour ahead of Illinois but she couldn't understand the concept of time zones. Finally, I told her the plane went fast, and she bought that.

7. A New York lawmaker called and asked, ''Do airlines put your physical description on your bag so they know whose luggage belongs to whom?'' I said, 'No, why do you ask?'

She replied, ''Well, when I checked in with the airline, they put a tag on my luggage that said (FAT), and I'm overweight. I think that's very rude!'' After putting her on hold for a minute, while I looked into it (I was dying laughing), I came back and explained the city code for Fresno, CA is (FAT - Fresno Air Terminal), and the airline was just putting a destination tag on her luggage.

8. A Senator's aide called to inquire about a trip package to Hawaii. After going over all the cost info, she asked, ''Would it be cheaper to fly to California, and then take the train to Hawaii ?''

9. I just got off the phone with a freshman Congressman who asked, "How do I know which plane to get on?'' I asked him what exactly he meant, to which he replied, ''I was told my flight number is 823, but none of these planes have numbers on them.''

10. A lady Senator called and said, ''I need to fly to Pepsi-Cola, Florida . Do I have to get on one of those little computer planes?'' I asked if she meant fly to Pensacola, FL on a commuter plane. She said, ''Yeah, whatever, smarty!''

11. A senior Senator called and had a question about the documents he needed in order to fly to China . After a lengthy discussion about passports, I reminded him that he needed a visa. 'Oh, no I don't.. I've been to China many times and never had to have one of those.'' I double checked and sure enough, his stay required a visa. When I told him this he said, ''Look, I've been to China four times and every time they have accepted my American Express!''

Duh!

12. A New Mexico Congress woman called to make reservations, ''I want to go from Chicago to Rhino, New York.'' I was at a loss for words. Finally, I said, ''Are you sure that's the name of the town?''

''Yes, what flights do you have?'' replied the lady.

After some searching, I came back with, ''I'm sorry, ma'am, I've looked up every airport code in the country and can't find a Rhino anywhere.'

''The lady retorted, ''Oh, don't be silly! Everyone knows where it is. Check your map!''

So I scoured a map of the state of New York and finally offered, ''You don't mean Buffalo, do you?''

The reply?

''Whatever! I knew it was a big animal,' she said.'

Now you know why the Government is in the shape that it's in! Could anyone be this DUMB?

YES, THEY WALK AMONG US, ARE IN POLITICS, AND THEY CONTINUE TO BREED!

~~~~~~~~~~~~~~~~~~~~~~~~~~~~~~~~~~~~~~~~~~~~~~~

Fastest Trooper in Montana

In most of the United States there is a policy of checking on any stalled vehicle on the hightway when temperatures drop to single digits or below. About 3 AM one very cold morning, Montana State Trooper Allan Nixon #658 responded to a call there was a car off the shoulder of the road outside Great Falls, Montana. He located the car, stuck in deep snow with the engine still running.

Pulling in behind the car with his emergency lights on, the trooper walked to the driver's door to find an older man passed out behing the wheel with a nearly empty vodka bottle on the seat beside him. The driver came awake when the trooper tapped on the window. Seeing the rotating lights in his rearview mirror, and the state trooper standing next to his car, the man panicked. He jerked the gearshift into 'drive' and hit the gas.

The car's speedometer was showing 20-30-40 and then 50 MPH, but it was still stuck in the snow, wheels spinning. Trooper Nixon, having a sense of humor, began running in place next to the speeding (but stationary) car. The driver was totally freaked, thinking the trooper was actually keeping up with him. This goes on for about 30 seconds, then the trooper yelled. "PULL OVER!"

The man nodded, turned his wheel and stopped the engine. Needless to say, the man from North Dakota was arrested and is probably still shaking his head over the state trooper in Montana who could run 50 miles per hour.

Who says troopers don't have a sense of humor?

~~~~~~~~~~~~~~~~~~~~~~~~~~~~~~~~~~~~~~~~~~~~~~~

Why 911 Dispatchers and Cops Drink:

~~~~~~~~~~~~~~~~~~~~~~~~~~~~~~~~~~~~~~~~~~~~~~~

Cops are funny, too

These 16 Police Comments were taken off actual police car videos around the country:

* *

"You know, stop lights don't come any redder than the one you just went through."

* *

"Relax, the handcuffs are tight because they're new. They stretch after awhile."

* *

"If you take your hands off the car, I'll make your birth certificate a worthless document."

* *

"If you run, you'll only go to jail tired."

* *

"Can you run faster than 1200 feet per second? Because that's the speed of the bullet that'll be chasing you."

* *

"You don't know how fast you were going? I guess that means I can write anything I want to on the ticket, huh?"

* *

"Yes, sir, you can talk to the shift supervisor, but I don't think i t will help. Oh, did I mention that I am the shift supervisor?"

* *

"Warning! You want a warning? OK., I'm warning you not to do that again or I'll give you another ticket."

* *

"The answer to this last question will determine whether you are drunk or not. Was Mickey Mouse a cat or a dog?"

* *

"Fair? You want me to be fair? Listen, fair is a place where you go to ride on rides, eat cotton candy and corn dogs and step in monkey poop."

* *

"Yeah, we have a quota. Two more tickets and my wife gets a toaster oven."

* *

"In God we trust, all others we run through NCIC."

* *

"How big were those 'two beers' you say you had?"

* *

"No sir, we don't have quotas anymore. We used to, but now we're allowed to write as many tickets as we can."

* *

"I'm glad to hear that the Chief (of Police) is a personal friend of yours. So you know someone who can post your bail."

* *

AND THE WINNER IS ..

"You didn't think we give pretty women tickets? You're right, we don't." Sign here."*

~~~~~~~~~~~~~~~~~~~~~~~~~~~~~~~~~~~~~~~~~~~~~~~

THE DARWIN AWARDS

It's that time again... The Darwin Awards are finally out, the annual honor given to the persons who did the gene pool the biggest service by killing themselves in the most extraordinarily stupid way. Last year's winner was the fellow who was killed by a Coke machine which toppled over on top of him as he was attempting to tip a free soda out. This year's winner was a real rocket scientist... HONEST! Read on...And remember that each and every one of these is a TRUE STORY.

And the nominees were:

No. 1 A young Canadian man, searching for a way of getting drunk cheaply, because he had no money to buy alcohol, mixed gasoline with milk. Not surprisingly, this concoction made him ill, and he vomited into the fireplace in his house. This resulting explosion and fire burned his house down, killing both him and his sister.

No. 2 Three Brazilian men were flying in a light ai rcraft at low altitude when another plane approached. It appears that they decided to moon the occupants of the other plane, but lost control of their own aircraft and crashed. They were all found dead in the wreckage with their pants around their ankles.

No. 3 A 22-year-old Reston , Virginia , man was found dead after he tried to use octopus straps to bungee jump off a 70-foot rail road trestle. Fairfax County police said Eric Barcia, a fast food worker, taped a bunch of these straps together, wrapped an end around one foot, anchored the other end to the trestle at Lake Accotink Park, jumped and hit the pavement. Warren Carmichael, a police spokesman, said investigators think Barcia was alone because his car was found nearby. "The length of the cord that he had assembled was greater than the distance between the trestle and the ground," Carmichael said. Police say the apparent cause of death was "Major trauma."

No. 4 A man in Alabama died from rattlesnake bites. It seems that he and a friend were playing a game of catch, using the rattlesnake as a ball. The friend - no doubt a future Darwin Awards candidate - was admitted to hospital.

No. 5 Employees in a medium-sized warehouse in west Texas noticed the smell of a gas leak. Sensibly, management evacuated the building extinguishing all potential sources of ignition; lights, power, etc.? After the building had been evacuated, two technicians from the gas company were dispatched. Upon entering the building, they found they had difficulty navigating in the dark. To their frustration, none of the lights worked. Witnesses later described the sight of one of the technicians reaching into his pocket and retrieving an object that resembled a cigarette lighter. Upon operation of the lighter-like object, the gas in the warehouse exploded, sending pieces of it up to three miles away. Nothing was found of the technicians, but the lighter was virtually untouched by the explosion. The technician suspected of causing the blast had never been thought of as ''bright'' by his peers.

Now, ladies and gentleman, the winner of this year's Darwin Award (awarded, as always, posthumously):

Winner: The Arizona Highway Patrol came upon a pile of smoldering metal embedded in the side of a cliff rising above the road at the apex of a curve. The wreckage resembled the site of an airplane crash, but it was a car. The type of car was unidentifiable at the scene. Police investigators finally pieced together the mystery. An amateur rocket scientist... had somehow got hold of a JATO unit (Jet Assisted Take Off, actually a solid fuel rocket) that is used to give heavy military transport planes an extra "push" for taking off from short airfields.

He had driven his Chevy Impala into the desert and found a long, straight stretch of r oad. He attached the JATO to the car, jumped in, got up some speed and fired off the JATO!

The facts as best as could be determined are that the operator of the 1967 Impala hit the JATO ignition at a distance of approximately 3.0 miles from the crash site. This was established by the scorched and melted asphalt at that location. The JATO, if operating properly, would have reached maximum thrust within 5 seconds, causing the Chevy to reach speeds well in excess of 350 mph and continuing at full power for an additional 20-25 seconds.

The driver, and soon to be pilot, would have experienced G-forces usually reserved for dog fighting F-14 jocks under full afterburners, causing him to become irrelevant for the remainder of the event. However, the automobile remained on the straight highway for about 2.5 miles (15-20 seconds) before the driver applied and completely melted the brakes, blowing the tires and leaving thick ru bber marks on the road surface, then becoming airborne for an additional 1.4 miles and impacting the cliff face at a height of 125 feet leaving a blackened crater 3 feet deep in the rock. Most of the driver's remains were not recoverable. However, small fragments of bone, teeth and hair were extracted from the crater, and fingernail and bone shards were removed from a piece of debris believed to be a portion of the steering wheel.

Epilogue: It has been calculated that this moron attained a ground speed of approximately 420-mph, though much of his voyage was not actually on the ground.

You couldn't make this stuff up, could you?

PEOPLE JUST LIKE THIS ARE STILL AMONGST US .. AND STILL BREEDING (and VOTING) - SCARY, ISN'T IT?

~~~~~~~~~~~~~~~~~~~~~~~~~~~~~~~~~~~~~~~~~~~~~~~

Traffic Cop Vs. Violator

A motorcycle officer stops a man for running a red light. The guy is a real jerk and comes running back to the motor officer The violator demands to know why he is being harassed by the Gestapo! So the officer calmly tells him of the red light violation. The motorist instantly goes on a tirade, questioning the officer's ancestry, sexual orientation, etc., in rather explicit terms. The officer, being a professional, takes it all in stride, figuring "battleship mouth and rowboat ass".

The tirade goes on without the cop saying anything. When he gets done with writing the citation he puts an 'AH' in the lower right corner of the narrative portion of the citation.He then hands it to the violator for his signature.

The guy signs the cite angrily, tearing the paper, and when presented his copy points to the 'AH' and demands to know what it stands for. The officer then removes his mirror sunglasses, gets in the middle of the guys face and say, "That's so when we go to court, I'll remember you're an asshole!"

Three months later they are in court. The violator has such a bad record he is about to lose his license and has hired an attorney to represent him. On the stand the officer testifies to seeing the man run the red light.

Under cross examination the defense attorney asks, "Officer is this a reasonable facsimile of the citation you issued my client?"

The officer responds, "Yes, sir, this is the defendants copy, his signature and mine, same number at the top."

Attorney: "Officer, is there any particular marking or notation on this citation you don't normally make?"

Officer: "Yes, sir. In the lower right corner of the narrative there is an 'AH', underlined".

Attorney: "What does the AH stand for, officer?"

Officer: "Aggressive and hostile, sir"

Attorney: "Aggressive and hostile?"

Officer: "Yes, sir."

Attorney: "Officer .. are you sure it doesn't stand for asshole?"

Officer: "Well, sir, you know your client better than I do !"

~~~~~~~~~~~~~~~~~~~~~~~~~~~~~~~~~~~~~~~~~~~~~~~

Europe and Terror

The English are feeling the pinch in relation to recent terrorist threats and have raised their security level from "Miffed" to "Peeved." Soon, though security levels may be raised yet again to "Irritated" or even "A Bit Cross " Londoner's have not been "A Bit Cross" since the blitz in 1940 when tea supplies all but ran out. Terrorists have been re-categorized from "Tiresome" to a "Bloody Nuisance." The last time the British issued a "Bloody Nuisance" warning level was during the great fire of 1666.

Also, the French government announced yesterday that it has raised its terror alert level from "Run" to "Hide." The only two higher levels in France are "Surrender" and "Collaborate." The rise was precipitated by a recent fire that destroyed France's white flag factory, effectively paralyzing the country's military capability.

It's not only the English and French that are on a heightened level of alert. Italy has increased the alert level from "Shout Loudly and Excitedly" to "Elaborate Military Posturing." Two more levels remain: "Ineffective Combat Operations" and "Change Sides."

The Germans also increased their alert state from "Disdainful Arrogance" to "Dress in Uniform and Sing Marching Songs." They also have two higher levels: "Invade a Neighbour" and "Lose."

Belgians, on the other hand, are all on holiday as usual, and the only threat they are worried about is NATO pulling out of Brussels.

The Spanish are all excited to see their new submarines ready to deploy. These beautifully designed subs have glass bottoms so the new Spanish navy can get a really good look at the old Spanish navy.

~~~~~~~~~~~~~~~~~~~~~~~~~~~~~~~~~~~~~~~~~~~~~~~

THE IDIOT REPORT

Number One Idiot of 2006

I am a medical student currently doing a rotation in toxicology at the poison control center. Today, this woman called in very upset because she caught her little daughter eating ants. I quickly reassured her that the ants are not harmful and there would be no need to bring her daughter into the hospital. She calmed down and at the end of the conversation happened to mention that she gave her daughter some ant poison to eat in order to kill the ants. I told her that she better bring her daughter into the emergency room right away.

Here's your sign, lady. Wear it with pride.

Number Two Idiot of 2006

Early this year, some Boeing employees on the airfield decided to steal a life raft from one of the 747s. They were successful in getting it out of the plane and home. Shortly after they took it for a float on the river, they noticed a Coast Guard helicopter coming towards them. It turned out that the chopper was homing in on the emergency locator beacon that activated when the raft was inflated. They are no longer employed at Boeing.

Here's your sign, guys. Don't get it wet ... the paint might run.

Number Three Idiot of 2006

A man, wanting to rob a downtown Bank of America, walked into the Branch and wrote this, "Put all your muny in this bag." While standing in line, waiting to give his note to the teller, he began to worry that someone had seen him write the note and might call the police before he reached the teller's window. So he left the Bank of America and crossed the street to the Wells Fargo Bank. After waiting a few minutes in line, he handed his note to the Wells Fargo teller. She read it and, surmising from his spelling errors that he wasn't the brightest light in the harbor, told him that she could not accept his stickup note because it was written on a Bank of America deposit slip and that he would either have to fill out a Wells Fargo deposit slip or go back to Bank of America. Looking somewhat defeated, the man said, "OK" and left. He was arrested a few minutes later, as he was waiting in line back at Bank of America.

Don't bother with this guy's sign. He probably couldn't read it anyway.

Number Four Idiot of 2006

A motorist was unknowingly caught in an automated speed trap that measured his speed using radar and photographed his car. He later received in the mail a ticket for $40 and a photo of his car. Instead of payment, he sent the police department a photograph of $40. Several days later, he received a letter from the police that contained another picture, this time of handcuffs. He immediately mailed in his $40.

Wise guy ... but you still get a sign

Number Five Idiot of 2006

A guy walked into a little corner store with a shotgun and demanded all of the cash from the cash drawer. After the cashier put the cash in a bag, the robber saw a bottle of Scotch that he wanted behind the counter on the shelf. He told the cashier to put it in the bag as well, but the cashier refused and said, "Because I don't believe you are over 21." The robber said he was, but the clerk still refused to give it to him because she didn't believe him. At this point, the robber took his driver's license out of his wallet and gave it to the clerk. The clerk looked it over and agreed that the man was in fact over 21 and she put the Scotch in the bag. The robber then ran from the store with his loot. The cashier promptly called the police and gave the name and address of the robber that he got off the license. They arrested the robber two hours later.

This guy definitely needs a sign.

Idiot Number Six of 2006

A pair of Michigan robbers entered a record shop nervously waving revolvers. The first one shouted, "Nobody move!" When his partner moved, the startled first bandit shot him.

This guy doesn't even deserve a sign.

Idiot Number Seven of 2006

Arkansas: Seems this guy wanted some beer pretty badly. He decided that he'd just throw a cinder block through a liquor store window, grab some booze, and run. So he lifted the cinder block and heaved it over his head at the window. The cinder block bounced back knocking him unconscious. It seems the liquor store window was made of Plexi-Glass. The whole event was caught on videotape.

Yep, here's your sign ...

(Please note that all of the above people are allowed to vote)

EXTRA:

IDIOTS IN THE NEIGHBORHOOD

I live in a semi-rural area. (probably Weyauwega, Wisconsin) We recently had a new neighbor call the local township administrative office to request the removal of the Deer Crossing sign on our road. The reason: "Too many deer are being hit by cars out here! I don't think this is a good place for them to be crossing anymore."

~~~~~~~~~~~~~~~~~~~~~~~~~~~~~~~~~~~~~~~~~~~~~~~

True Stories

The phone call to the Sacramento Police Department was from an irate husband. He was complaining about his nagging wife and he wanted police to "take care of her." Officer Kevin Mulderrig, noticing bad reception on the line, asked the man where he was calling from.

"Los Angeles," he answered.

"Sir, do you know this is the Sacramento Police Department?" Mulderrig asked. "Why don't you phone the Los Angeles Police Department with your spousal complaint?"

"I did that," the man responded. "They told me that there was nothing they could do about it, and if I didn't like it, I should phone Sacramento."

The element of surprise: The above incident, which occurred in the mid-1960s, is one of several true stories from police and fire personnel collected in "First Responders Handbook of Humor" by L.A. firefighter John B. Hicks and L.A. Sheriff's Deputy Dan Jordan.

One of the themes is that emergency personnel never know what they're going to encounter.

Take the time Deputy John Swensen (now retired) went to a house to take a burglary report. With clipboard in hand, he was greeted by a woman who pointed to a room and said, "He's in there."

"Who?" Swensen asked.

"My husband has him in the back room," she explained.

Swensen cautiously entered and found an older man shakily pointing a rifle at a juvenile on the floor.

Said the young burglary suspect: "I've never been so happy to see a cop."

~~~~~~~~~~~~~~~~~~~~~~~~~~~~~~~~~~~~~~~~~~~~~~~

Car Trouble

A blonde pushes her BMW into a police station. She tells an officer it died. After he works on it for a few minutes, it is idling smoothly.

She says, "What's the story?"

He replies, "Just crap in the carburetor"

She asks, "How often do I have to do that?"

~~~~~~~~~~~~~~~~~~~~~~~~~~~~~~~~~~~~~~~~~~~~~~~

Knitting

A highway patrolman pulled alongside a speeding car on the freeway. Glancing at the car, he was astounded to see that the blonde behind the wheel was knitting!

Realizing that she was oblivious to his flashing lights and siren, the trooper cranked down his window, turned on his bullhorn and yelled, "PULL OVER!"

"NO!", the blonde yelled back, "IT'S A SCARF!"

~~~~~~~~~~~~~~~~~~~~~~~~~~~~~~~~~~~~~~~~~~~~~~~

Speeding Ticket

A police officer stops a blonde for speeding and asks her very nicely if he could see her license.

She replied in a huff, "I wish you guys would get your act together. Just yesterday you take away my license and then today you expect me to show it to you."

~~~~~~~~~~~~~~~~~~~~~~~~~~~~~~~~~~~~~~~~~~~~~~~

Funny Policemen

There are some pretty funny policemen out there! I personally like the last one! Have a good snicker!

15). "Relax; the handcuffs are tight because they're new. They'll stretch out after you wear them awhile."

14). "Take your hands off the car, and I'll make your birth certificate a worthless document."

13). "If you run, you'll only go to jail tired."

12). "Can you run faster than 1,200 feet per second? In case you didn't know, that is the average speed of a 9mm bullet fired from my gun."

11). "So you don't know how fast you were going. I guess that means I can write anything I want on the ticket, huh?"

10). "Yes, Sir, you can talk to the shift supervisor, but I don't think it will help. Oh! did I mention that I am the shift supervisor?"

9). "Warning! You want a warning ? O.K., I'm warning you not to do that again or I'll give you another ticket."

8). "The answer to this last question will determine whether you are drunk or not. Was Mickey Mouse a cat or a dog?"

7). "Fair? You want me to be fair? Listen, fair is a place where you go to ride on rides, eat cotton candy, and step in monkey crap."

6). "Yeah, we have a quota. Two more tickets and my wife gets a toaster oven."

5). "In God we trust, all others we run through NCIC."

4). " Just how big were those two beers?"

3). "No sir, we don't have quotas anymore. We used to have quotas, but now we're allowed to write as many tickets as we want."

2). "I'm glad to hear the Chief of Police is a good personal friend of yours. At least you know someone who can post your bail."

And the best...

1). "You didn't think we give pretty women tickets? You're right, we don't. Sign here.

~~~~~~~~~~~~~~~~~~~~~~~~~~~~~~~~~~~~~~~~~~~~~~~

911 calls

Dispatcher: 9-1-1 What is your emergency?
Caller: I heard what sounded like gunshots coming from the brown house on the corner.
Dispatcher: Do you have an address?
Caller: No, I have on a blouse and slacks. Why?


Dispatcher: 9-1-1 What is your emergency?
Caller: Someone broke into my house and took a bite out of my ham and cheese sandwich.
Dispatcher: Excuse me?
Caller: I made a ham and cheese sandwich and left it on the kitchen table and when I came back from the bathroom, someone had taken a bite out of it.
Dispatcher: Was anything else taken?
Caller: No, but this has happened to me before and I'm sick and tired of it!

Dispatcher: 9-1-1 What is the nature of your emergency?
Caller: I'm trying to reach nine eleven, but my phone doesn't have an eleven on it.
Dispatcher: This is nine eleven.
Caller: I thought you just said it was nine-one-one.
Dispatcher: Yes, ma'am, nine-one-one and nine-eleven are the same thing.
Caller: Honey, I may be old, but I'm not stupid.

Dispatcher: 9-1-1 What's the nature of your emergency?
Caller: My wife is pregnant and her contractions are only two minutes apart.
Dispatcher: Is this her first child?
Caller: No, you idiot! This is her husband!

And the winner is..........

Dispatcher: 9-1-1
Caller: Yeah, I'm having trouble breathing. I'm all out of breath. Darn... I think I'm going to pass out.
Dispatcher: Sir, where are you calling from?
Caller: I'm at a pay phone. North and Foster.
Dispatcher: Sir, an ambulance is on the way. Are you an asthmatic?
Caller: No.
Dispatcher: What were you doing before you started having trouble breathing?
Caller: Running from the police.

~~~~~~~~~~~~~~~~~~~~~~~~~~~~~~~~~~~~~~~~~~~~~~~

Police Harassment

Recently, a California website ran (not ours) an e-mail forum (a question and answer exchange) where the topic was "Policing the Community." One of the civilian email participants posed the following question:

"I would like to know how it is possible for police officers to continually harass people and get away with it?"

From the "other side" (the law enforcement side) a cool cop with a sense of humor replied:

It is not easy. In California we average one cop for every 2,000 people. About 60% of those cops are on patrol, where we do most of the harassing. One-fifth of that 60% are on duty at any given moment and are available for harassing people. So, one cop is responsible for harassing about 10,000 residents. When you toss in the commercial, business and tourist locations that attract people from other areas, sometimes you have a situation where a single cop is responsible for harassing 20,000 or more people each day.

A ten-hour shift runs 36,000 seconds. This gives a cop one second to harass a person, and three-fourths of a second to eat a donut AND then find a new person to harass. This is not an easy task. Most cops are not up to it, day in and day out. It is just too tiring. What we do is utilize some tools to help us narrow down those people which we harass.

They are as follows:

PHONE: People will call us up and point out things that cause us to focus on a person for special harassment. "My neighbor is beating his wife" is a code phrase we use. Then we come out and give special harassment. Another popular one on a weeknight is, "The kids next door are having a loud party."

CARS: We have special cops assigned to harass people who drive. They like to harass the drivers of fast cars, cars blasting music, cars with expired registration stickers and the like. It is lots of fun when you pick them out of traffic for nothing more obvious than running a red light. Sometimes you get to really heap the harassment on when you find they have drugs in the car, are driving drunk, or they have an outstanding warrant.

RUNNERS: Some people take off running just at the sight of a police officer. Nothing is quite as satisfying as running after them like a beagle on the scent of a bunny. When you catch them you can harass them for hours.

CODES: When you can think of nothing else to do, there are books that give ideas for reasons to harass folks. They are called "Codes" Penal, Vehicle, Health and Safety, Business and Professional Codes, to name a few. They spell out all sorts of things for which you can really mess with people. After you read the code, you can just drive around for a while until you find someone violating one of these listed offenses and harass them. Just last week I saw a guy smash a car window. Well, the code says that is not allowed. That meant I had permission to harass this guy.

It is a pretty cool system that we have set up, and it works pretty well. We seem to have a never-ending supply of folks to harass. And we get away with it. Why? Because the good citizens who pay the tab actually like the fact that we keep the streets safe for them.

Next time you are in my town, give me a single finger wave. That will be a signal that you wish for me to take a little closer look at you, and then maybe I'll find a reason to harass YOU.

Looking forward to meeting you!

~~~~~~~~~~~~~~~~~~~~~~~~~~~~~~~~~~~~~~~~~~~~~~~

POLICE REPORT - Breath test

A police officer was staking out a particularly rowdy bar for possible DUI violations. At closing time, he saw a fellow stumble out of the bar, trip on the curb and try his keys on five different cars before he found his. The man sat in the front seat fumbling around with his keys for several minutes.

Meanwhile, all the other patrons left the bar and drove off. Finally he started his engine and began to pull away.

The police officer was waiting for him. As soon as he pulled onto the street, the officer stopped him, read him his rights and administered the breathalyzer test to determine his blood-alcohol content.

The results showed a reading of 0.0.

The puzzled officer demanded to know how that could be.

The driver replied, "Tonight I'm the designated decoy."

~~~~~~~~~~~~~~~~~~~~~~~~~~~~~~~~~~~~~~~~~~~~~~~


DING-A-LING

A cop stops a car for traveling faster than the posted speed limit.

Since he's in a good mood that day he decides he might give the fellow a break and write him out a warning instead of a ticket. So, he asks the man his name.

"Fred," he replies.

"Fred what?" the officer asks.

"Just Fred," the man responds.

When the officer presses him for a last name, the man tells him that he used to have a last name but lost it. The officer thinks he has a nut case on his hands but plays along with it.

"Tell me Fred, how did you lose your last name?"

The man replies, "It's a long story so stay with me. I was born Fred Dingaling. I know, funny last name. The kids used to tease me all the time. So I stayed to myself. I studied hard and got good grades.

When I got older I realized that I wanted to be a doctor. I went through college medical school, internship, residency, finally got my degree so I was Fred Dingaling, MD.

After a while I got bored being a doctor so I decided to go back to school. Dentistry was my dream. Got all the way through school, got my degree so I was now Fred Dingaling, MD, DDS. Got bored doing dentistry so I started fooling around with my assistant. She gave me VD. So, I was Fred Dingaling, MD, DDS with VD.

Well, the ADA found out about the VD so they took away my DDS so I was Fred Dingaling MD with VD. Then the AMA found out about the ADA taking away my DDS because of the VD, so they took away my MD leaving me as Fred Dingaling with VD. Then the VD took away my dingaling so now I'm just Fred."

The officer walked away in tears laughing ...

~~~~~~~~~~~~~~~~~~~~~~~~~~~~~~~~~~~~~~~~~~~~~~~

Real 911 Calls, "BELIEVE" it or not!

Dispatcher: 9-1-1 What is your emergency?
Caller: I heard what sounded like gunshots coming from the brown house on the corner.
Dispatcher: Do you have an address?
Caller: No, I'm wearing a blouse and slacks, why?

~~~
Dispatcher: 9-1-1 What is your emergency?
Caller: Someone broke into my house and took a bite out of my ham and cheese sandwich.
Dispatcher: Excuse me?
Caller: I made a ham and cheese sandwich and left it on the kitchen table and when I came back from the bathroom, someone had taken a bite out of it.
Dispatcher: Was anything else taken?
Caller: No, but this has happened to me before and I'm sick and tired of it

~~~
Dispatcher: 9-1-1 Fire or emergency?
Caller: Fire, I guess.
Dispatcher: How can I help you sir?
! Caller:< /SPAN> I was wondering.....does the Fire Dept. put snow chains on their trucks?
Dispatcher: Yes sir, do you have an emergency?
Caller: Well, I've spent the last 4 hours trying to put these chains on my tires and... well.. do you think the Fire Dept. could come over and help me?
Dispatcher: Help you what?
Caller: Help me get these chains on my car!

~~~
Dispatcher: 9-1-1 What is the nature of your emergency?
Caller: I'm trying to reach nine eleven but my phone doesn't have an eleven on it.
Dispatcher: This is nine eleven.
Caller: I thought you just said it was nine-one-one
Dispatcher: Yes, ma'am nine-one-one and nine-eleven are the same thing.
Caller: Honey, I may be old, but I'm not stupid.

~~~
Dispatcher: 9-1-1 What's the nature of your emergency?
Caller: My wife is pregnant and her contractions are only two minutes apart.
! Dispatcher: Is this her first child?
Caller: No, you idiot! This is her husband!

~~~
And the winner is..........

Dispatcher: 9-1-1
Caller: Yeah, I'm having trouble breathing. I'm all out of breath. Darn....I think I'm going to pass out.
Dispatcher: Sir, where are you calling from?
Caller: I'm at a pay phone. North and Foster. Damn......
Dispatcher: Sir, an ambulance is on the way. Are you an asthmatic?
Caller: No
Dispatcher: What were you doing before you started having trouble breathing?
Caller: Running from the Police

~~~~~~~~~~~~~~~~~~~~~~~~~~~~~~~~~~~~~~~~~~~~~~~

Maine State Troope

An Old Maine farmer got pulled over by a Maine State trooper for speeding.

The trooper started to lecture the farmer about his speed and in general, began to throw his weight around to try to make the farmer uncomfortable.

Finally, the trooper got around to writing out the ticket. As he was doing it, he kept swatting at some flies that were buzzing around his head.

The farmer said, "Havin' some problems with circle flies there, are Ya?"

The trooper stopped writing the ticket and said--"Well, yeah, if that's what they are--I never heard of circle flies ."

So the old Maine farmer says, "Well, circle flies are common on farms. See, they're called circle flies 'cause they're almost always found circlin' around the back end of a horse.

The trooper says, "Oh," and goes back to writing the ticket.

Then after a minute he stops and says, "Hey...wait a minute, are you trying to call me a horse's ass?"

The farmer says, "Oh no, officer. I have too much respect for law enforcement and police officers to even think about calling you a horse's ass."

The trooper says, "Well, that's a good thing," and goes back to writing the ticket.

After a long pause, the farmer says, "Hard to fool them flies, though."

~~~~~~~~~~~~~~~~~~~~~~~~~~~~~~~~~~~~~~~~~~~~~~~

Knitting

A highway patrolman pulled alongside a speeding car on the freeway. Glancing at the car, he was astounded to see that the blonde behind the wheel was knitting! Realizing that she was oblivious to his flashing lights and siren, the trooper cranked down his window, turned on his bullhorn and yelled, "PULL OVER!"

"NO!" the blonde yelled back, "IT'S A SCARF!"

~~~~~~~~~~~~~~~~~~~~~~~~~~~~~~~~~~~~~~~~~~~~~~~

Speeding Ticket

A police officer stops a blonde for speeding and asks her very nicely if he could see her license.

She replied in a huff, "I wish you guys would get your act together. Just yesterday you take away my license and then today you expect me to show it to you!"

~~~~~~~~~~~~~~~~~~~~~~~~~~~~~~~~~~~~~~~~~~~~~~~

Dead BMW

A blonde pushes her BMW into a gas station. She tells the mechanic it died. After he works on it for a few minutes, it is idling smoothly.

She says, "What's the story?"

He replies, "Just crap in the carburetor"

She asks, "How often do I have to do that?"

~~~~~~~~~~~~~~~~~~~~~~~~~~~~~~~~~~~~~~~~~~~~~~~

Suspect Meets Immovable Object

First mentioned in the Star News, an L.A. County sheriff's publication: A driver stopped in Malibu on suspicion of drunk driving jumped out of his car and raced across Pacific Coast Highway.

"The deputies watched in amazement as the guy negotiated his way across the busy highway, being narrowly missed by several vehicles," said the publication.

"Then, when it looked like he would surely be hit by a car doing about 50 mph, he assumed his best Heisman Trophy pose and actually stiff-armed the side of the car as it passed him. Without breaking stride, he continued running blindly into the night." There was, however, one obstacle ahead.

It was so dark, the magazine said, the suspect "apparently didn't see the mountain directly in his path. He ran face-first into the immovable object, nearly knocking himself unconscious."

~~~~~~~~~~~~~~~~~~~~~~~~~~~~~~~~~~~~~~~~~~~~~~~

Senior Moment

This is supposed to be a true story. I hope so!!!!!!!!

An elderly Florida lady did her shopping and, upon returning to her car, found four males in the act of leaving with her vehicle. She dropped her shopping bags and drew her handgun, proceeding to scream at the top of her voice, "I have a gun, and I know how to use it! Get out of the car!"

The four men didn't wait for a second invitation. They got out and ran like mad.

The lady, somewhat shaken, then proceeded to load her shopping bags into the back of the car and got into the driver's seat. She was so shaken that she could not get her key into the ignition. She tried and tried, and then it dawned on her why.

A few minutes later, she found her own car parked four or five spaces farther down. She loaded her bags into the car and drove to the police station.

The sergeant to whom she told the story couldn't stop laughing. He pointed to the other end of the counter, where four pale men were reporting a car jacking by a mad, elderly woman described as white, less than five feet tall, glasses, curly white hair, and carrying a large handgun.

No charges were filed. If you're going to have a Senior Moment, make it a memorable one!

~~~~~~~~~~~~~~~~~~~~~~~~~~~~~~~~~~~~~~~~~~~~~~~